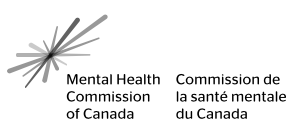 Mental Health Commission Canada
The Mental Health Commission of Canada (MHCC) leads the development and dissemination of innovative programs and tools to support the mental health and wellness of Canadians. Through its unique mandate from the Government of Canada, the MHCC supports federal, provincial, and territorial governments as well as organizations in the implementation of sound public policy.
The MHCC's current mandate aims to deliver on priority areas identified in the Mental Health Strategy for Canada in alignment with the delivery of its strategic plan.   
The MHCC's staff, Board, and Advisory Committees all share the same goal - creating a better mental health system for Canadians.